SlowFood™ Extra Durable Dog Ball
$ 14,95
6 products left.

7
people are currently looking at this product.
Free shipping on orders over $50!
Satisfaction Guaranteed
No Hassle Refunds
Secure Payments
This toy is the perfect accessory for dogs who eat their food a little too eagerly! If you've got a four-legged friend who eats at lightning speed, you know slowing him/her down can be quite challenging. This pet toy seeks to solve that issue!
You can fill the toy with your pet's kibble, give it a shake, and let your dog work to earn his food. No more free feeding without any effort. Your dog will have to toss, bite, and kick the ball around to get the precious meal. It's a great way to slow a dog's eating, and it's also an excellent way to stimulate your pet, who might otherwise be lounging and getting bored.
Why this toy is a game changer for you and your dog
Toys are important to avoid your pet destroying your home and to reduce the dog's boredom.
Dogs often take destructive actions to relieve loneliness and stress. They need to be regularly entertained and stimulated.
Our SlowFood™ dog ball will help you in your quest to keep your home in good condition, avoiding damage to things you care about. The toy ball contributes to the general well-being of your dog.
This treat-dispensing ball is made of safe soft security plastic product specially made to be chewed, which contributes to developing your dog's teeth and gums. Side slots and a hollow center let you put their best snacks or other small treats your dog deserves so much.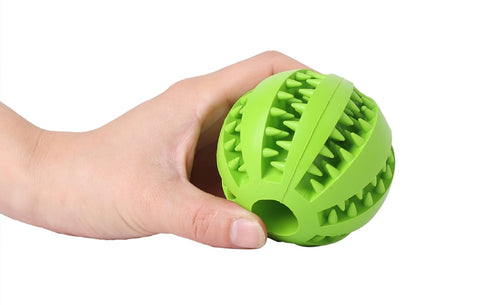 Clean it easily with normal soap and water or just water. The SlowFood™ dog ball also cleans your pet's teeth, making your life easier! These grooves help massage the gums, remove tartar, also helps freshen breath with a mint flavor.
Safe and fun, it's that simple.
Shipping & Delivery
:
Thank you for choosing Tribe of Pets! All orders are shipped with tracking within 24 to 48 hours of you placing the order using USPS, Canada Post, or other carriers via ePacket depending on your location and fastest available service.
Typical delivery time frame is between 5 to 10 days. All orders are shipped with a tracking number so you can track your package every step of the way. We offer Free Shipping Worldwide for a limited time. Read our Shipping policy for more information.