Dog Safety LED Collar
$ 29,95
6 products left.

7
people are currently looking at this product.
Free shipping on orders over $50!
Satisfaction Guaranteed
No Hassle Refunds
Secure Payments
You don't want to risk losing your dog during a night walk without a leash? Do you want to make sure that other people can see him at night and especially that he doesn't get hit by a car?
Introducing our Dog Safety LED Collar that will make your dog visible in all circumstances. You can walk the dog in peace and it gives your pet a pretty cool effect when wearing this design collar at night!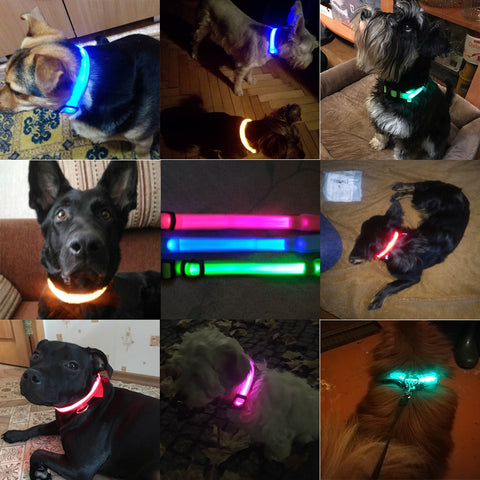 Easy and fast to recharge in 30 min via USB.
Rechargeable inner battery
Luminescent fiber LED light: illuminates while saving energy
Your dog is always visible to cars and other people at night. 3 flash modes
Strong nylon material for long-term use
Convenient for a long walk: 2-3h autonomy
Comfortable for the dog, quick release
You can even use it for a cat if you wish.
Please choose a size according to the circumference of your dog's neck:
| | | |
| --- | --- | --- |
| Size | Width | Neck circumference |
| XS | 0.78″ (2 cm) | 11″-15.7″ (28-40 cm) |
| S | 0.98″ (2.5 cm) | 13.8-16.9″ (35-43 cm) |
| M | 0.98″ (2.5 cm) | 15.7-18.9″ (40-48 cm) |
| L | 0.98″ (2.5 cm) | 17.7-20.4″ (45-52 cm) |
| XL | 0.98″ (2.5 cm) | 20.4-23.6″ (52-60 cm) |
| XXL | 0.98″ (2.5 cm) | 23.6-27.5″ (60-70 cm) |