Digital PetFood™ Scale Cup
$ 34,95
6 products left.

7
people are currently looking at this product.
Free shipping on orders over $50!
Satisfaction Guaranteed
No Hassle Refunds
Secure Payments
Nowadays, more and more cats and dogs are overweight due to overeating, with a risk of having their health and well-being impacted.
The solution? The PetFood™ scale cup. With its integrated digital scale and its clear LED display, you will now be able to measure precisely the right dosage of food you give to your pets for a more balanced diet.
Strong ABS material for longevity. Resists to temperatures ranging from -20 to 100°C.
Convenience. No cable, works with 1 CR2032 button battery only (please use only this model).
Accuracy. Can measure up to 800g of food with a 1g tolerance error. Weighs both solid and liquid ingredients such as flour, beans, flavors, and water.
International: displays weight in g, ml, cup, oz.
Notes
Switch the measuring unit by simply pressing the UNIT button.
Detachable spoon: for easy cleaning and maintenance, so it's always safe and healthy to use.
Size:
Total length of 23 cm, scoop height 5cm, scoop width 9.5cm, scoop length 10cm
9*2*3.7 Inch ; 23*5*9.5 cm (LxHxW)
Package includes

1 x PetFood™ Scale Cup (without battery)
Instructions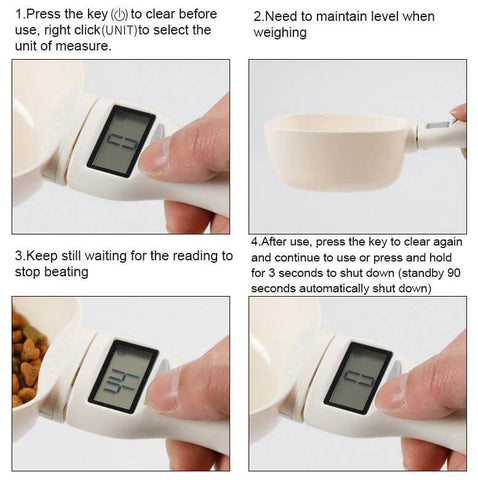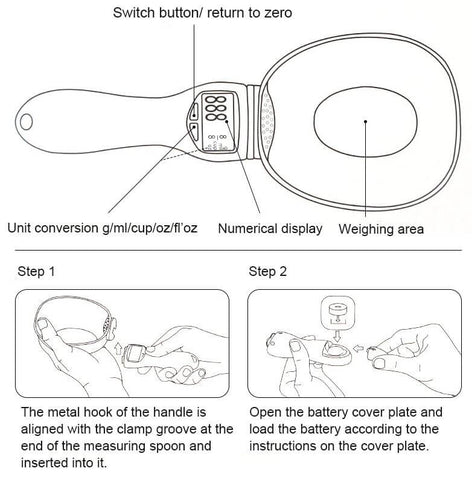 Shipping & Delivery
:
Thank you for choosing Tribe of Pets! All orders are shipped with tracking within 24 to 48 hours of you placing the order using USPS, Canada Post, or other carriers via ePacket depending on your location and fastest available service.
Typical delivery time frame is between 5 to 10 days. All orders are shipped with a tracking number so you can track your package every step of the way. We offer Free Shipping Worldwide for a limited time. Read our Shipping policy for more information.