Woofun™ Tennis Ball Launcher
$ 139,95
6 products left.

7
people are currently looking at this product.
Free shipping on orders over $50!
Satisfaction Guaranteed
No Hassle Refunds
Secure Payments
Your dog loves to play catching ball for hours with you, and that's great. However, you're not always available to play with your pet. Between your children, your work, your partner, and all the other responsibilities, you simply don't always have enough time to spend hours playing ball. Or you may feel tired of throwing the ball tirelessly. 
Dogs are ball-crazy; they love it so much they want to play much more than you physically can!
Introducing our Woofun™ ball launcher that will ease your life when you need a bit of time. It throws small tennis balls automatically at various distances.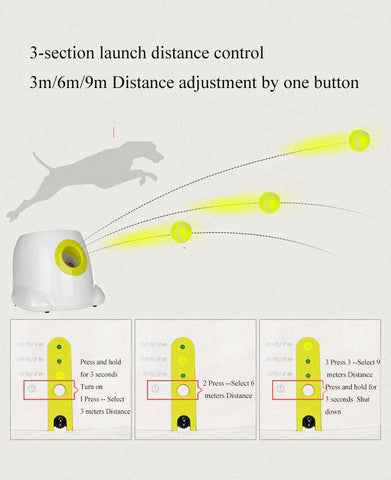 Your dog will love to play with it at any time of the day, even when you have to be away. It's more than a toy, it's a playmate!
Of course, this does not replace the games you can have with your dog, but it can relieve you from time to time, and your dog will not be bored when you can't play with him.
Flexibility: your dog can play with it indoors and outdoors as you can adjust the launching distance easily at the push of a button: 10-20-30 ft (3-6-9 m). Indoor, you can plug it into the power outlet (household electricity 110-240V) with an AC adapter [included]. To use it outside, you can take an extension cable or use 6 AA batteries [not included].
Automatic launch: your dog simply drops the ball into the launcher and fetches it once it pops out! You will be amazed by how easy it is and how entertained your dog will be for long hours at a time!
Small size, so you can store it easily in a corner.
High-quality: we strive to offer high-quality products. The automatic ball launcher is made of strong plastic for long-term use.
Tennis balls included: very easy to grasp for a dog, these small 2″ (5 cm) tennis balls are perfect for a game of fetch.
Lots of fun in perspective!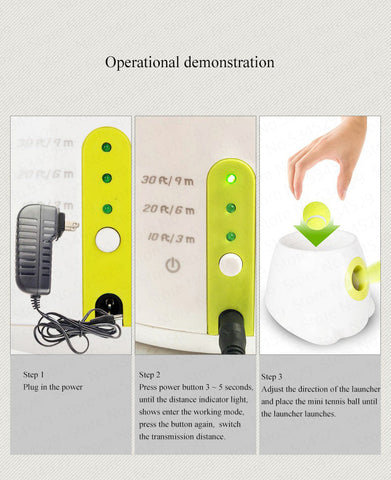 Shipping & Delivery
:
Thank you for choosing Tribe of Pets! All orders are shipped with tracking within 24 to 48 hours of you placing the order using USPS, Canada Post, or other carriers via ePacket depending on your location and fastest available service.
Typical delivery time frame is between 5 to 10 days. All orders are shipped with a tracking number so you can track your package every step of the way. We offer Free Shipping Worldwide for a limited time. Read our Shipping policy for more information.